The outdoor bench displayed in the above photo are for exterior purpose. These outdoor benches are made up of cast iron and wood. The idea of this outdoor furniture is to to withstand any weather conditions like heavy rain fall & sunlight. This benches are used mainly at parks, schools, colleges, gardens, lawn area in residence, portico bench, porch and and many public visiting places.
FAQ:
1. Can the park bench be used outdoor all the time. How much life will it give ?
Park Bench can withstand any weather condition. It can be placed outdoor permanently. park bench will last more than 25 years.
---
2. What is the material used in park bench ?
Park bench has cast iron legs. Cast iron withstands all weather conditions. It can be used even in sea shores. Unlike steel or other material, cast iron will never rust. The wood used in park bench is 1st quality Malaysian Sal. The wood is coated with special paint to withstand outdoor weather
---
3. How many persons can sit in a park bench ?
Our basic design comes with 4 feet width. In this 3 people can sit comfortably. If there is a space constraint or if you prefer a single seater, the width can be reduced to 2 feet. If you need a longer park bench for 4 people, it can be done with a special support in the middle
---
4. How long does it take to deliver park bench if order placed ?
Ready stock is available at our showroom. If not, it takes 10 days to deliver the product
5. After purchasing park bench, if in case one or two wood slag gets damaged, is it possible to replace
Any time, you can purchase the wood slag separately
Model No. 0033, Outdoor Beach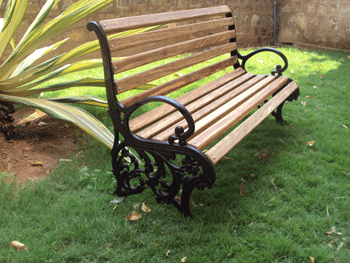 Model No. 0034, Outdoor Beach
@ Cream Centre, Race Course, Coimbatore