The advantages of etched, cut, sandblasted, textured and other decorative glass designs are clear: Privacy can be customized, while light still pours from room to room, creating an open feel even in confined spaces. Yet, how to achieve these effects and still remain within budget? It's possible, with 3M™ Fasara™ Glass Finishes and with 3M™ Crystal Window Finishes.
3M™ Scotchcal™ Frosted Crystal 7725-324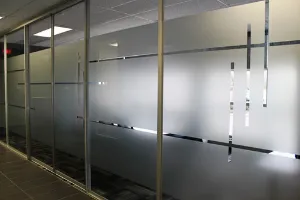 3M™ Scotchcal™ Frosted Crystal 7725-324 is designed to provide permanent, multicolor, special effect graphics for windows and internally-illuminated displays. This product is intended for making pre-spaced cut graphics on automatically controlled friction-fed or flatbed cutters.
Translucent, cast PVC, self-adhesive vinyl
Special CRYSTAL-effect film for sand-blasting effect
MCS warranty - 3 years (if exposed to direct sunlight) to 15years (indoors) (must be endorsed by 3M India Limited
Applications - Frosted glass film
Electronic/computer plotter cut
Apply on rigid, clear substrates (glass, partitions, doors, windows etc.
Benefits - Frosted glass film
Durable - 15 years (indoors), will not peel or curl
Sand blast glass appearance without hassles - safer & time/cost saving
Ensures graphic is intact - no adhesive residue
Allows wet & weeding applications
Low gloss surface - reduces glare