Vibrant, stylish and beautifully textured, our Glencoe Blossom Pink is a stunning example of how luxurious a Roman blind can look and feel.The brightness of pink is tempered by interweaving with earthy, rustic fibres that soften the colour and stop it from taking over the room altogether, without losing any of its vibrancy and glamour.
Velvet Rose Roman Blind
How romantic! We've taken the Paeonia Rose roman blind and dressed it with a sumptuous velvet fabric. It's just heavenly! From the texture to the pattern, we simply adore this design.The pattern is a complex one too, depicting a beautiful watercolour painting.
Lilac Roman Blind
If you're looking for a tasteful, elegant touch of colour for your home then this Cavendish Lilac Roman blind may be ideal.The understated purple shade is super subtle, just this side of grey, for a look that's clean and on trend. 
Pumpkin Spice Roman Blind
The richness of the colour and depth of the weave create an opulent textured look that warm and cosy, with an eye-catching vibrance that's simply gorgeous.Add in the reliability of the sturdy controls and components, and the versatility of the optional linings, and you have a beautiful all-rounder with stately appeal.
Lagoon Blue Roman Blind
A beautiful on-trend shade and a sumptuously textured fabric bring together warmth and cool-as-a-cucumber style in this gorgeous Roman blind.Blend with similar shades for a stylishly uniform look or contrast with a neutral scheme to make this an inspiring centre-piece. 
Faux Silk Lagoon Roman Blind
The Ahisma Luxe Faux Silk Silver blind is gorgeous and will be equally happy being the striking accent in a room or harmonising within a palette of colour.This blind will be the perfect companion to any stylish setting from the living room right through to the bedroom and dining room.
Graphite Roman Blind
It's hard to peel your eyes away from this darkly brooding blind, with a rich grey shade and stunningly abstract pattern, both of which make it an ideal match for a modern space.The darkness of the shade makes for a cosseting finish, that dashing pattern like rough-hewn stone
Faux Silk Burnt Copper Roman Blind
With a soft and subtle shimmer across a background of a stunning burnt copper colour, this Vicenza Faux Silk Roman Blind isn't one to be ignored.Luxuriously soft, you can add instant elegance to your kitchen, dining or living room.
Hummingbird Faux Silk Mist Roman Blind
our Hummingbird Faux Silk Mist Roman Blind, part of our beautiful Ideal Home collaboration.A whole mirage of cool colour palettes including sky blues, stormy greys and creamy beiges are contrasted to the stark paprika wings and yellow stomachs of the intricate hummingbirds, dancing between the spiraling botanicals.
Dragonfly Faux Silk Steel Roman Blind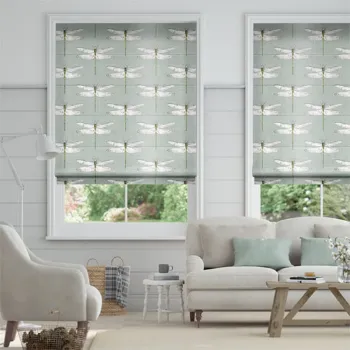 With exquisitely detailed dragonflies upon a bed of shimmering silvered faux silk, this Demoiselle Faux Silk Steel roman blind fills your home with luxury and incredible style.When it comes to creating a visually strong pattern, Harlequin certainly know how to make it happen, and you'll find nothing less right here.
Crushed Velvet Storm Roman Blind
Beautifully rich and luxurious, the Crushed Velvet Storm roman blind is the perfect blend of contemporary and classic, with a strong, silvered colourway and sumptuously thick velvet fabric.Harmonising well with other metallic colours and tones, it keeps your room looking light and open
Avena Pewter Roman Blind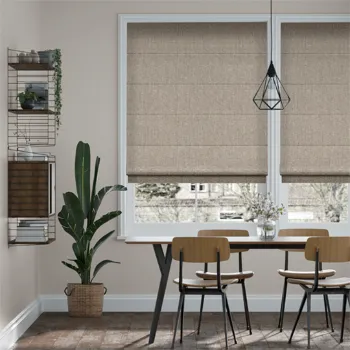 Create a harmonious and serene retreat in your home with our gorgeous Avena Pewter Roman Blind.The soft neutral colour of the blind is simply fabulous, with undertones of brown and grey the window dressing will radiate warmth in your room. 
Silver Roman Blind
Sleek and sophisticated, Alcyone Silver is a lovely, cool silver-tone design with a quirky edge. The unique teardrop pattern is beautifully subtle and when it catches the light, it creates a delicate shimmer. It has a luxurious finish and adds a touch of effortless elegance to surrounding décor.
Forest Velvet Moonlight Roman Blind
Modern style meets traditional elegance in this sublimely stylish Roman blind.The palette is totally trendy, the mix of greys the perfect choice for a contemporary scheme.With the touch of deep blue in the leaves of the delicate pattern elevating the look and adding a touch of colour to the mix.
Rockhampton Cocoa Roman Blind
Bringing together beautiful neutral shades, the Rockhampton Cocoa roman blind is a simple window dressing with a whole lot to give. It's metallic too, making it all the more lustrous too.The combination of tones in this fabric makes a woody-like look, giving your room that subtle blend between the outdoors and in.
Wall Coverings
We have scenery, abstract, stones & bricks, bamboo and many more wallpaper designs. Get today the 3D wallpapers and ordinary price.
Price Rs.55-80/- per sq.ft (based on the design)

Carpets, Vinyl & Wooden Flooring
Krono Original laminate flooring gives excellent value for money. We have wide range to offer in various wooden effects.
Vinyl Flooring Price Rs.12-95/- per sq.ft (based on the thickness)
Wooden Flooring Price Rs.80-110/- per sq.ft (based on the brand)
Carpet Price Rs.60-160/- per sq.ft (based on the variety)

Glass Film
Glass Film for Glass Partitions, door, windows, panels, both indoors and outdoors. Diffuses light and can hence be used to create an ambient lighting effect
Price Rs.40-110/- per sq.ft (based on the purpose)

Sports Flooring
We supply and install fifa pro certified football turf. FIFA awards the FIFA QUALITY mark to pitches that meet the standard for community and amateur pitches
Price Rs.125/- per sq.ft (includes turf, fillers)