Vertical Blinds Light Grey
Excellent for both residential and commercial use, features premium hardware and components for long lasting operation.Made-to-order to your exact specifications, provides a much better look than off-the-shelf options.
Vertical Blinds OceanFront
Cost-effective way to add drama, dimension and contemporary styling to patio doors and wider windows.Custom sized to your exact window dimensions - better than off-the-shelf options for providing a perfect fit and designer look.
Vertical Blinds Fabric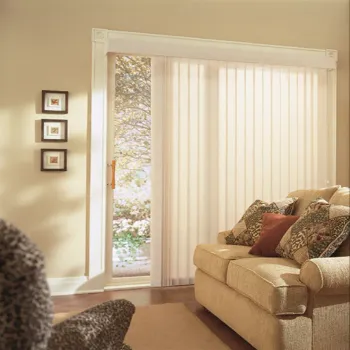 Featuring woven fabric vanes in neutral colors to blend with any décor while adding visual interest.Soft fabric vanes provide privacy and moderate light control; for greater privacy and room darkening plus a neutral streetside appearance, consider the inserted vane style option.
Vertical Blinds Snow White
We uses industry-leading headrail technology to make their vertical blinds some of the best available.  Extra durable vane stems connect the vanes to the headrail and provides years of reliable operation.  Customizable features include the exclusive Backstacker option for convenient closure of the blind. 
Vertical Blinds S- Shaped
Unique S-shape vanes emulate the soft folds of drapery, and provide tighter closure than traditional vertical blinds for greater privacy and light control.This provide excellent privacy and light blocking, are easy to maintain yet durable
Vertical Blinds Green
Fabric vertical blinds combine the traditional operation and convenience of a vertical with the color options and softness of a drapery.These are durable and many styles are available in other types of window shades to coordinate throughout your home.
Vertical Blinds Golden
The unique design of these vertical blinds makes them stand apart from the rest.  The shape of these vanes allows the blind to close more tightly than regular verticals, providing extra light control and privacy, and giving the blind a flowing look reminiscent of traditional drapery.
Vertical Blinds Faux Wood
Faux Wood Vertical Blind collection features a wide array of realistic stain colors that not only coordinates with interior trim and popular furniture colors, but also with faux wood blinds.  Finally, no more mismatched window treatments on sliding doors and patio windows! 
Vertical Blinds Oak
This vertical blinds, you no longer have to compromise when it comes to large windows and patio doors - coordinate your horizontal wood blinds with unique wood verticals!  An exclusive hinged vane design prevents warping, which is common with one-piece vertical vanes, providing you with tight closures and trouble-free operation. 
Vertical Blinds Pecan
Wood Vertical Blinds let you coordinate your large windows and patio doors with other windows in your home.The Vertical Blind collection features realistic stain colors and coordinates directly to wood blinds, so you don't have to have mismatched window treatments on your patio door.
Vertical Blind Waterfall Blue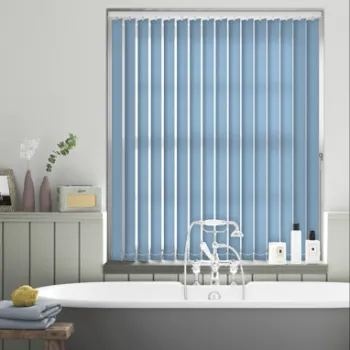 To create a décor scheme with calming colour and creativity, opt for the enchanting Waterfall Blue. This exquisite cloth features a restful cornflower blue shade and a fusion of silk-inspired threads for added decoration and texture. Plus, modern, adaptable louvres allow you to control the amount of light and breeze entering the room.
Vertical Blinds Charcoal
In a rich, deep grey colourway the Charcoal Vertical Blind will be a strong and stylish addition to your space.Ideal for offices, kitchens, bathrooms, or bedrooms, the wipeable and fully adjustable louvres will make your shading in your home oh so simple. 
Vertical Blinds Denim
Timeless and practical, vertical blinds are the perfect choice for any conservatory, bathroom or kitchen as they're waterproof and wipe clean.Denim Vertical Blind is no exception. The warm blue colour is stylish and modern, whilst the adjustable slats give you great light control ideal for unpredictable weather!
Vertical Blinds Orchid Pink
A lovely blush pink tone, this Orchid Pink vertical blind is soft, sweet and sophisticated. It goes well with contemporary tones such as greys, coppers and other metallics.It also allows for versatile shading with twisting louvres that let you keep out the glare.
Vertical Blind Dark Red
Add some drama to your room with our Dark Red Vertical Blind. The intensely rich red is a reminder of a sweet bite from a dark red pepper; ideal for creating a wow statement. Match with neutral walls for a pop at your window or with similar intense colours for a bold and bright interior.
Wall Coverings
We have scenery, abstract, stones & bricks, bamboo and many more wallpaper designs. Get today the 3D wallpapers and ordinary price.
Price Rs.55-80/- per sq.ft (based on the design)

Carpets, Vinyl & Wooden Flooring
Krono Original laminate flooring gives excellent value for money. We have wide range to offer in various wooden effects.
Vinyl Flooring Price Rs.12-95/- per sq.ft (based on the thickness)
Wooden Flooring Price Rs.80-110/- per sq.ft (based on the brand)
Carpet Price Rs.60-160/- per sq.ft (based on the variety)

Glass Film
Glass Film for Glass Partitions, door, windows, panels, both indoors and outdoors. Diffuses light and can hence be used to create an ambient lighting effect
Price Rs.40-110/- per sq.ft (based on the purpose)

Sports Flooring
We supply and install fifa pro certified football turf. FIFA awards the FIFA QUALITY mark to pitches that meet the standard for community and amateur pitches
Price Rs.125/- per sq.ft (includes turf, fillers)