PVC OUTDOOR BLINDS - All over Bangalore
Call 8277995537

click here for Measurements & Installation Procedure
Outdoor PVC Blind are installed to the outside of your window or patio to block the sun light partially before they reach your interior, makes the room cool and greatly reducing air-conditioning costs. It is much more effective at stopping heat than interior shading products like interior blinds or residential window tinting and glass film. PVC outdoor blinds provides daytime privacy while still allowing natural light and visibility on the inside. It can lower interior temperature as much as possible. PVC outdoor blinds are designed to be long lasting and durable in extremely hot climates and can even be left up through the winter. These blinds helps to reduce the glare while still allowing lots of ambient light to enter. The PVC Blinds can help to prevent the doors, windows, furniture and other valuable products in the interior from sunlight. The blinds can be easily cleaned by the garden hose. It can save your inner porch from rain & wind.
Usage of PVC Outdoor Blinds
1. Balcony in apartments and individual houses.
2. In patio and for covering gazebos or semi open spaces.
3. For covering Car shed
4. For using in hill station area

FAQ
Can outdoor PVC Blinds withstand any weather conditions
Yes. Outdoor PVC Blinds can withstand any weather condition. It can be used in places where it rains heavily like hill stations or windy areas.
---
What is the min. size of the window that i can order
We can manufacture outdoor PVC Blinds in any size. Due to the cost constraint, the minimum billing quantity will be 12 sq.ft.
---
My portico is 30 ft long. How many blinds can cover this area
The max width of the one blind is 6 ft. If the window size is more than 6 ft, then it will be installed with 2 or more equal parts. For example if it's 30 ft, then it will be of 5 blinds each with 6 ft width
---
Is there any limitation in height of PVC Outdoor Blinds
There is no limitation in the height for outdoor blinds, but if it's more than 20 feet height, then it will be difficult to roll the blinds
---
Does the outdoor vision completely blocks if i use a outdoor pvc blinds. What will be the see through level
Except one or two shade, rest all the blinds will have upto 20% see through level.

Technical details about PVC Outdoor Blinds
Blinds Material; Plastic, Lead Free.
Thickness: 2 mm
Weaving Pattern: Horizontal
Rolling Type: Bottom Up Roller
Installation: DIY product: easy to install, Installation manual included in the pack
Quality: Quality tested for durability, and can be used well in any area, outdoor balcony, indoor area including bathrooms, laundry rooms and the garage.
Weaving: These blinds are weaved using Automated blind weaving machine.
Weaving Tread; We use ppt nylon tread in weaving the outdoor blinds. These treads withstand heavy outdoor weather conditions.
Holding Rod: The blind and the mechanism are fixed and connected by 1 inch square aluminium rod.
Mechanism: Each blind is controlled by one White color cord lock and 2 cord pulley set. Material: Plastic, POM and Copper
Expected Life: 8 – 10 years
PVC Blinds Shade Card
PVC OUTDOOR BLINDS
- All over Bangalore
Call 8277995537
All these outdoor blinds shades will completely block rain water passing in
S-94. Blackout blinds. Will block sunlight passing in completely
S-95. Blackout blinds. Will block sunlight passing in completely
S-96. Blackout blinds. Will block sunlight passing in completely
S-101. Most Popular Colour. Will allow partial sunlight
S-102. Will allow partial sunlight
S-104. Will allow partial sunlight
S-105. Looks natural like green bamboo blinds. Will allow partial sunlight
S-106. Will allow partial sunlight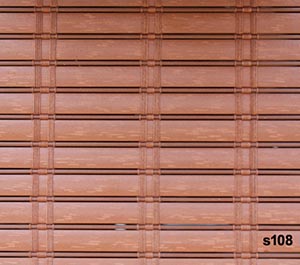 S-108. Wood Colour. Will allow partial sunlight
PVC OUTDOOR BLINDS - All over Bangalore
Call 8277995537
Looking for Natural Outdoor Bamboo Blinds - Click here